Are you curious about what is an eco solvent printer is and how it works? Look no further! In this blog post we will explore the ins and outs of eco-solvent printing, including its key features, pros and cons, and top models available on the market today.
Whether you're a business owner, graphic designer, or someone looking to print high-quality images at home, eco-solvent printing may be the perfect solution for you.
So, let's dive in and discover what an eco-solvent printer can do for you.
Eco-solvent printing technology is rapidly gaining popularity in recent years. You probably heard this term without knowing it. There may be a lot of questions arising in your head. Like is it safe to use?
Is it environment-friendly? About eco-solvent inks? etc. You will get answers to your queries here.
Eco-solvent inkjet printers are gaining popularity among business owners, graphic designers, and even for home use. They produce high-quality prints at a lower cost and with less harm to the environment than other printing methods.
Eco-solvent printers use advanced technology to produce high-quality images on various surfaces like vinyl, fabric, and more. However, there is a huge confusion over the perception of eco-solvent when used to describe different types of ink.
Recently, water-based "eco-solvent" inks have been introduced for use in printers like the Epson EcoTank ET-2850, budget Epson EcoTank ET-2720, and premium Epson EcoTank Photo ET-8500 for producing high-quality images.
In this blog post, we will take a closer look at eco-solvent printing, its user guide, key features, pros, and cons. We will also provide answers to some common questions.
---
About Eco Solvent Printer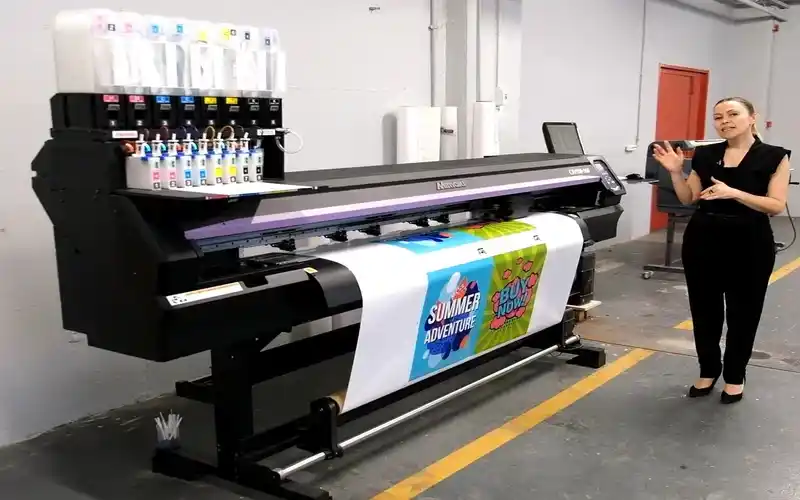 An eco-solvent printer uses eco-solvent inks, which are a combination of water-soluble ink and oil-soluble components, to produce high-quality prints. It is a type of inkjet printer.
Unlike traditional usual solvent-based inks, eco-solvent inks produce low levels of volatile organic compounds (VOCs), which makes them a more environment-friendly alternative.
Eco-solvent inkjet printers appeared as the latest pick due to their eco-friendly features, the vitality of colors, and the durability of ink. More importantly, a reduction in the total cost of ownership.
Eco solvent printers are often used for printing large-format graphics, such as banners, posters, and signage. They can also be used for printing on textiles, wallpapers, and other materials.
---
Key features of Eco Solvent Inkjet Printing
Below are the main key features of eco-solvent printers.
It has the ability to produce high-quality, and durable prints.
Eco-solvent inks are highly resistant to fading.
And also it can produce vivid, long-lasting colors.
Another important feature of eco solvent printers is their versatility. They can print on a wide range of surfaces, including vinyl, fabric, paper, and other materials. So that this is an ideal choice for businesses that require a printer that can handle a variety of print jobs.
However, these inviting features make these printers an ideal choice also for outdoor use, where prints may be exposed to sunlight and other harsh environmental conditions.
---
Tips for Buying the Right Traditional Solvent Printer
Whether you are going to buy a new printer or switch to eco-solvent printing. So, there are a few necessary items you should keep in mind while choosing the right printer for your professional needs.
Firstly, the point to be noted is what type of materials you will be printing on. A printer ink that is eco-friendly and water-based is really a great option for printing on various substrates, including vinyl, paper, cardstock, fabric, and many others.
Moreover, In your profession, you have to print on a range of different materials. That's why it is important to prefer a printer that is compatible with all the types of media you want to use.
The second thing you have to consider is the speed and production capacity you need from your eco solvent printer. If you intend to use your printer for large-scale projects or high-volume printing production means, then it is important that you should choose a model that can handle your production needs.
However, another thing to consider is the price of the printer and the cost of eco-solvent inks. As these printers can be ascertained more expensive ahead of time, but they can often be more cost-effective eventually due to their long-lasting durability and versatility of eco-solvent inks.
---
Can You Use Eco Solvent Printer Ink in Your Inkjet Printer?
An inkjet printer works by spraying tiny drops of ink onto paper, while an eco-solvent printer uses ink dissolved in a special liquid solvent that is sprayed onto the paper. If you try to use eco-solvent ink meant for a different printer, there is a chance that it could damage your printer.
Eco-solvent printers are not as popular as inkjet printers, but they offer some better benefits than inkjet printers.
However, the solvent ink is less likely to fade up or smudge when exposed to water, and it can be cheaper than inkjet printers ink.
If you want high-quality and long-lasting images that will last a long time, an eco-solvent printer is a good choice. But if you want to save money, an inkjet printer may be a better option for you.
---
Pros of Eco Solvent Printers
Eco-solvent printing offers multiple benefits over traditional printing methods. Below we have provided you with a few of the advantages of using an eco-solvent printer
Ecologically Friendly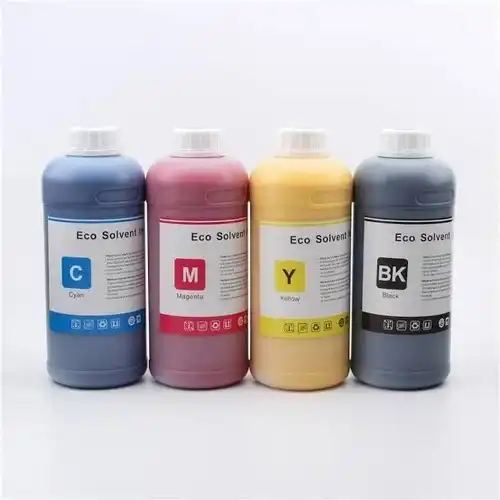 Water-based Solvent inks used in eco solvent printer produce low levels of volatile organic compounds (VOCs), making them a more attractive option alternative to traditional solvent-based inks.
As it uses less harsh solvents, it allows printing on a variety of different substrates.
Hence it provides you an excellent print quality while minimizing environmental impact.
High-Quality Printing:
The solvent inks that are used in these printers produce high-quality prints that are resistant to fading and can defy harsh environmental situations.
So that the print can last long as compared to other usual printings.
Versatility:
These printers can print on a wide range of surfaces, making them a versatile choice for businesses that require a printer that can handle a variety of print jobs.
Cost-Effective:
While eco solvent printers may have a higher installation cost than traditional printers, they are often more cost-effective in the long run as well.
It is also cost-effective due to the attribute that it uses less ink as compared to other printers.
Therefore Eco-solvent inks last longer than traditional inks, which means less frequent ink replacements and a reduction in overall printing costs.
Reduced Maintenance:
These solvent inkjet printers require less maintenance than traditional solvent-based printers.
This is because eco-solvent inks are less likely to block printheads, which reduces the need for regular maintenance and cleaning.
---
Cons of Eco Solvent Printers
While eco-solvent printers have many benefits, there are also some Consequences to consider before choosing this printing technology.
Here are some potential drawbacks:
Higher Initial Cost:
Although it can have a higher upfront cost than traditional solvent-based printers, which may not be feasible for small businesses or individuals.
Eco-solvent inks of these printers are also more pricey than traditional printer inks.
Slower Printing Speeds:
In addition to these, eco solvent printers are large in size and may have slower printing speeds as compared to other printing technologies.
It can be a main concern for businesses with high-volume printing needs.
Limited Color Range: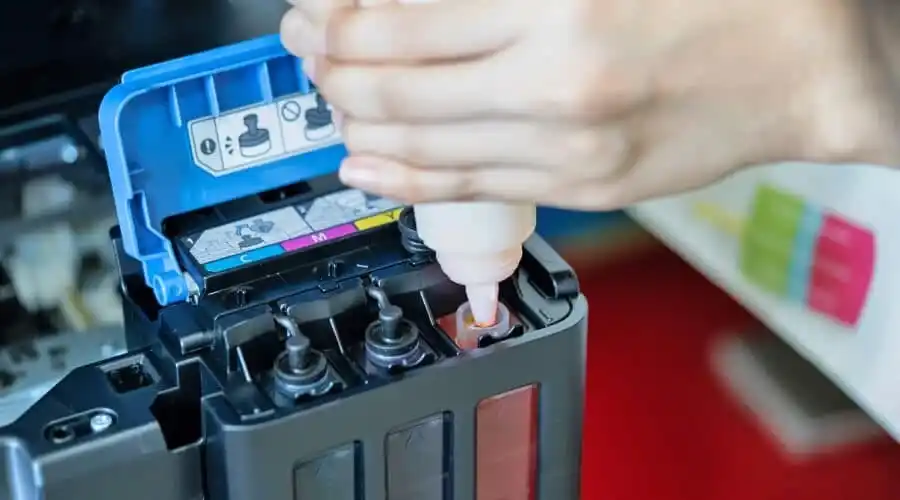 These solvent inks may have a limited color collection range compared to other inks, which may not be suitable for businesses that require precise color-matching printings.
Maintenance Requirements:
While eco-solvent printers may require less maintenance than other traditional solvent-based printers.
But they still require regular maintenance to keep them operating smoothly. So that your work will not get disturbance.
Not Suitable for All Substrates:
Another demerit of eco-solvent inks may not be suitable for all materials. Although it can print on a wide range of substrates. As an example, they might not stick well to specific kinds of plastics..
Overall, Eco solvent printer may offer a number of benefits, but it's important for us to convey the potential demerits to you against your specific printing needs before deciding if this technology is the right choice for you or not.
---
Top Models of Solvent Ink Printers
1. Epson EcoTank ET-2850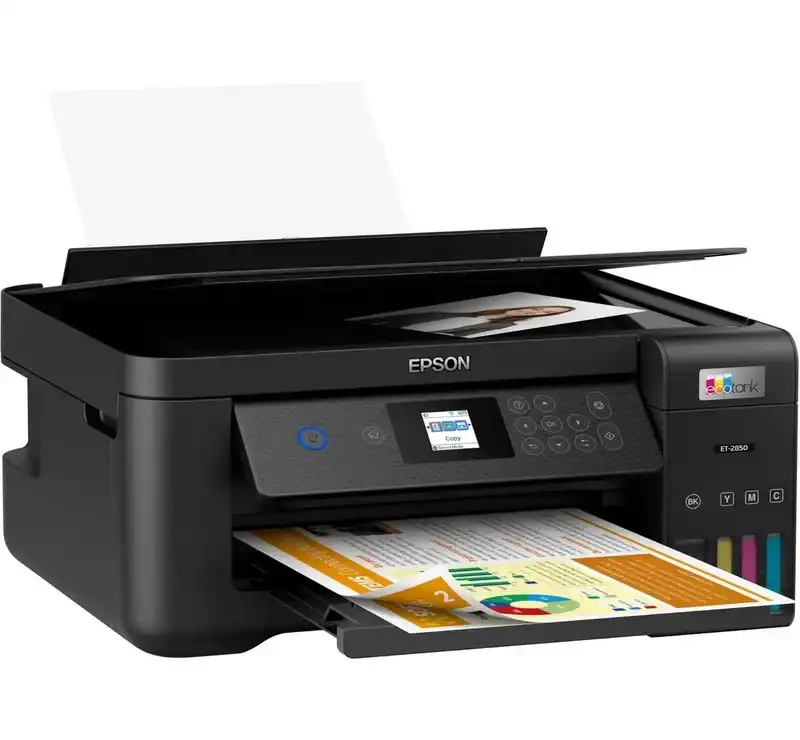 Looking for a printer that is both eco-friendly and cost-effective? Consider the Epson EcoTank ET-2850.
This printer comes with Wi-Fi-enabled features and a color LCD display that makes navigation a breeze.
Moreover, it uses refillable ink tanks, which means no more expensive and wasteful ink cartridges.
With having innovative cartridge-free printing system and high-capacity ink tanks, this printer can save you up to 90% on replacement ink costs compared to traditional ink cartridges.
That's equivalent to about 90 respective ink cartridges and up to 7,500 pages of black and 6,000 pages of color printing.
The EcoTank ET-2850 can also be used with water-based Eco Solvent Ink, making it an even more eco-friendly choice.
As well as, by reducing the amount of cartridge waste ending up in the trash yard. The Eco solvent printer also helps you to reduce your environmental impact.
When it comes to print quality, this printer has a unique feature to boast Micro Piezo Heat-Free Technology and pigment black ink It produces very clear and precise text, as well as impressive color photos and graphics on almost any type of paper.
Additionally, the built-in scanner and copier, plus auto 2-sided printing, make it a versatile and efficient choice for home or office use.
Across the board, the Epson EcoTank ET-2850 offers an eco-friendly and cost-effective solution for all your printing needs.
---
2. Epson EcoTank Photo ET-8500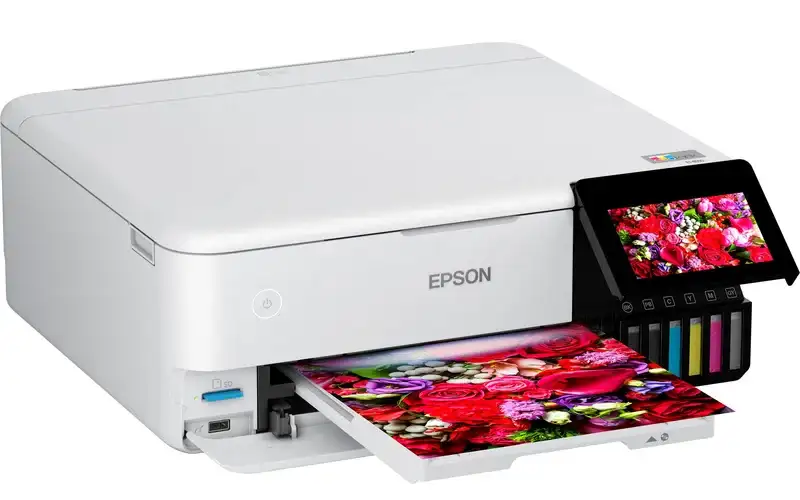 The Epson EcoTank Photo ET-8500 is a high-quality and versatile printing eco solvent printer. It can handle multiple printing tasks.
It features cartridge-free printing with a high-accuracy printhead that delivers lab-quality photos and graphics with sharp text.
This amazing printer can handle different media types, including borderless printing on paper, cardstock, CDs/DVDs, and other media up to 1.3 mm thick.
The printer provides the benefit of automatic two-sided printing and an intuitive touchscreen display for an easy navigation system.
Further, the printer comes with affordable in-house photo printing and has low-cost replacement ink, which can save up to 80% compared to traditional ink cartridges.
---
3. Epson EcoTank ET-2720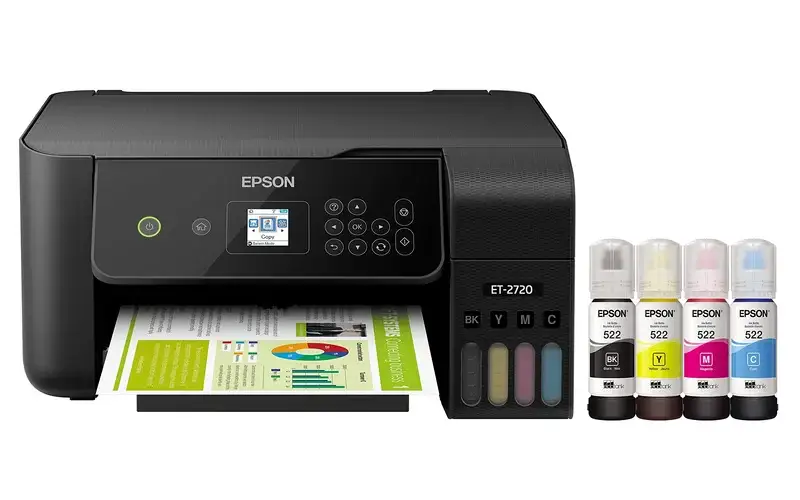 The Epson EcoTank ET-2720 is an all-in-one Wireless Color Inkjet Printer. It is an ideal choice for those who require a printer that can handle high-volume along with quality printing, such as in a small office or home setting.
Further, the design of this printer is more efficient and easy to use, with a range of features that make it a valuable investment.
This Eco solvent printer can produce up to 27 pages per minute in black and white and 15 pages per minute in color. These make it a fast and reliable option.
Additionally, it comes with a built-in duplexer, allowing for double-sided printing at a time, and has a paper capacity of up to 150 sheets. With Wi-Fi connectivity, printing from your mobile device or computer is a breeze.
Furthermore, the EcoTank ET-2720 can be used with water-based Eco Solvent Ink or boasts Epson's Fast Ink Delivery System, ensuring quick and efficient printing.
---
Also Read
How to Print Sublimation Images
How to Screen Record on HP Laptop: A Step-by-Step Guide
Location of the HP Printer Ink Cartridge Secret Reset Button
How can I Fix 'HP Printer In Error State' issue ?
---
Conclusion

In conclusion, eco-solvent printers offer a range of benefits for businesses and individuals looking for high-quality, durable, and eco-friendly printing solutions.
They use advanced technology to produce vibrant, long-lasting prints on a variety of materials.
While they may be more expensive than other types of printers, the benefits they offer in terms of quality, durability, and environmental friendliness make them a worthwhile investment for many users.
With this guide, we hope you have gained a better understanding of eco-solvent printers and can make an informed decision about whether they are right for your printing needs.
---
Frequently Asked Questions (FAQs)
What is Eco solvent printer good for?
Although the Eco-solvent inks can be used on different sorts of substrates, from paper to wood and plastic, etc. It can also be used for printing on fabric via the use of transfer printing. The eco-solvent printer uses ink dissolved in a special liquid solvent that is sprayed onto the paper, Which is good for printing on banners and signs that are used to print outdoors.
What is the difference between a Solvent printer and an Eco Solvent printer?
Apparently, Solvent printing largely use in outdoor advertising, such as billboards, wallpaper, car stickers, etc. While Eco-friendly solvent printing mainly uses in indoor advertising projects, like indoor banners, posters, wallpaper, floor graphics, retail POP, backlit displays, flexible banners, etc.
 
How long does Eco solvent ink last?
It usually requires maintenance once in a week to sufficiently maintain a printer using this ink. Normally, It takes 2 to 3 years before the ink begins to fade up, also it is water-proof and much resistant to abrasion.